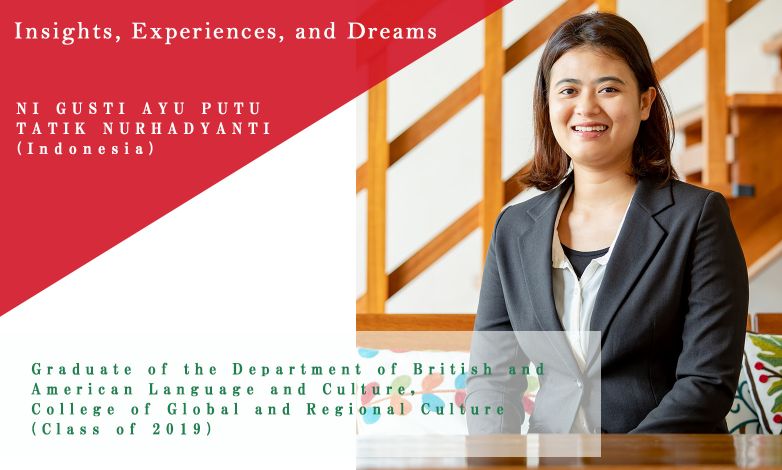 When I was a child, I never dreamed of being able to study in Japan. Six years ago, I came to Okinawa to study Japanese at a language school for two years. Okinawa, with its beautiful beaches and warm weather, reminded me of Bali, my hometown. I was happy at first, but after a month of living here, I started to feel lonely and homesick. I had a hard time adapting to the differences in culture, language, and environment, and since I had never studied Japanese, I had a difficult time communicating. One day, I got the lowest score among my friends on a placement test, so I felt ashamed and lost confidence. However, I started studying with enthusiasm, so I could achieve my dream of getting into Okinawa International University. One day, I was given the opportunity to take the university's entrance exam. After passing the exam and becoming a student, I felt lucky to receive such an extraordinary opportunity.
 Okinawa International University has provided me with a lot of experience and broad insights, especially into culture and languages. I took the Communication Course in the Department of British and American Language and Culture. My previous two years of studying Japanese wasn't enough, so I wanted to improve my Japanese skills and increase my knowledge in Japanese. I joined the International Exchange Club, a club for Japanese and foreign students at OKIU. After joining, I noticed a lot of positive benefits, including improving my Japanese and English skills, and making a lot of friends, who have supported me in many ways. These friends are like my second family.
 The classes I took also really impressed me. In Cross Cultural Understanding, I studied about the differences in culture, race, and religion in various countries. During this class, I had the opportunity to make a presentation about Indonesia's culture, race, religion, and diversity. I was
happy to have the opportunity to introduce my country's unique and diverse culture. I felt keenly aware that each country's citizens need to protect their country's uniqueness. In English Tourism, I learned about handling guests, polite grammar for communicating, and other insights into tourism. This class really helped me improve my English because we were required to communicate in English at all times.
 After graduating, I started working in tourism. I now work as a receptionist in charge of handling foreign tourists and as a foreign language translator at Beach House Yomitan, a villa in central Okinawa. The lessons I took at Okinawa International University have really helped me in my current job. At work, I often use the English and Japanese I learned at school, and I feel confident about knowing how to communicate with guests in a kind and polite manner. I feel very lucky to have studied at OKIU. Because of that experience, and the insights I gained, I was able to realize my dream of working in the tourism sector. Working in tourism is great fun!